DGC Invitational 2023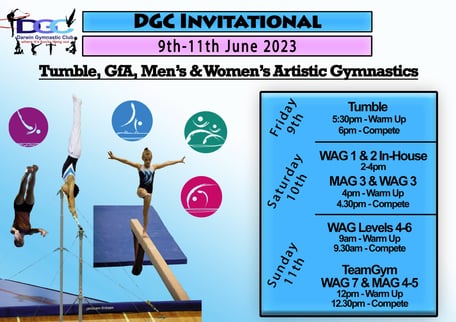 Between 9th and 11th June, Gymnasts from ENRG & TGA, along with DGC Squad gymnasts will compete at their first Invitational for 2023, hosted by Darwin Gymnastic Club. They will be competing in Men's Artistic Gymnastics, Women's Artistic Gymnastics, Tumbling and TeamGym.

Members, their families and guests are invited to come along to support these young athletes and to see what competitve gymnastics is all about. Our TeamGym will also display a routine on Sunday. Seating will be provided in the Table Tennis area with the entrance for spectators through the Table Tennis doors.

Classes will run as normal on Saturday morning, 11th June between 8.45am and 1 pm. A few Saturday afternoon recreational classes will be affected. Those affected will receive an email in the coming week.

Kind Regards
Karen & the Coaching Team
Scores will be uploaded below!