General Adults Class
Tuesday 7.30-8.30pm
When was the last time you did a cartwheel? Swung upside down on the rings? Or jumped on a trampoline?
If your answer is not since you were six years old, many can relate!
General adult classes generally start with a 10-15 minute warm-up, followed by opportunities to work on circuit work and skill development using our fully fitted gymnastic hall, led by our highly experienced and accredited coaches.
If you have specific goals, your coach will help you to progress towards reaching them. Alternatively you can go with the flow and use the structure provided!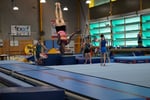 Strength & Conditioning Adults
Thursday 6.30-7.30pm
Would you like to train your strength, conditioning and handstands as a gymnast alongside other beginner through to ex-competitive gymnasts?
Holding yourself upside down for long periods of time, flipping through the air, using rings and bars and all the other amazing stuff involved in gymnastics will get you seriously strong.
Gymnasts have a level of strength that most normal people would consider near superhuman strength—but even training in gymnastics as an amateur will get you upper body strength, core strength and power like no other workout can do.